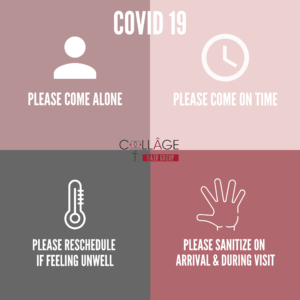 Our New Client Journey
Dear Clients:
The health and wellbeing of our clients have always been our top priority. In light of the current situation, we want to take a moment to inform you of some extra measures we require from our clients to ensure the safety of you, other clients, and staff members.
Extra Measures we are taking:
Our team will greet you with no close contact (no handshakes, hugs etc.).  

Masks are no longer mandatory in salon but are preferred. All team members will be wearing masks.

You will be asked to sanitise on entry/when washing your hands in our bathroom – please wash with soap and water.
There will be no in-house reading materials shared with clients but we do have complimentary Wi-Fi for you to use during your visit. 
Team members are washing hands thoroughly between clients and appointments.
All staff members are fully trained in our guidelines and have completed sanitization courses.
Anyone coming to the salon is asked to come alone.

Our standards for sterilization and cleanliness already exceeded the standards set by the relevant authorities but we're taking it up another notch by continually disinfecting all common areas for your additional safety.
We are really looking forward to welcoming you into the salon and we hope you'll be just as excited to see us! Should you have any questions we have not answered above, please email us and we will explain further.
Warm regards
Team Collage Hair Group